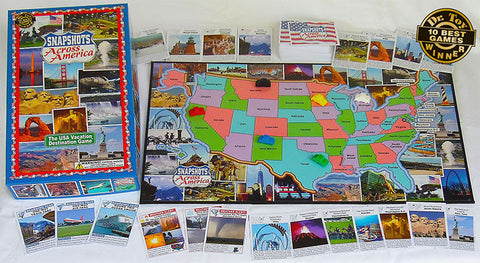 "The U.S. Vacation Destination Game"

29.99
Travel across a game-board map of the U.S.A. by car, train, boat or plane to "see" top tourist attractions from all 50 States that are featured in "Snapshots" on each card. Win by being the first to "visit" 7 different attractions. But watch out for Bad Weather! Your opponents might play a tornado, snow storm, hurricane or other disaster card to spoil your vacation.
Playing Snapshots Across America is a great way to learn U.S. Geography and about many National Parks, Landmarks, Historical Sites, National Monuments, Museums and other popular family vacation destinations. The new 2016 edition has a wider game-board U.S. map, a bigger deck of 124 cards featuring more attractions and larger photos, color coded Bad Weather, Transportation and Travel Cancel cards, as well as improved instructions, all in a more compact box.
.
"Great for helping the child learn more about the
United States.... The instructions are easy to follow and
the whole family can play together."
Stevanne Auerbach, Ph.D., "Dr. Toy"
For the latest discount offers visit and like our Facebook Page
---
More from this collection
Sale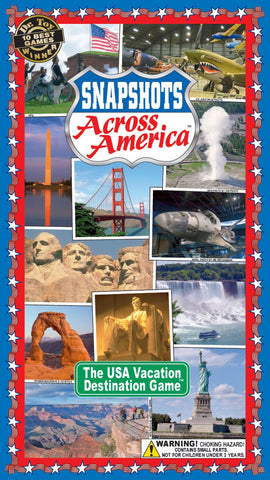 *Snapshots Across America-Spring Virtual Vacation Save 14%
Regular price $ 34.98 Sale price $ 30.00
Sale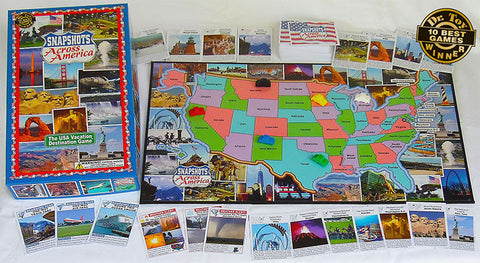 Regular price $ 29.99 Sale price $ 24.99