Snapshots Across America-Expanded Edition-Deck of Cards only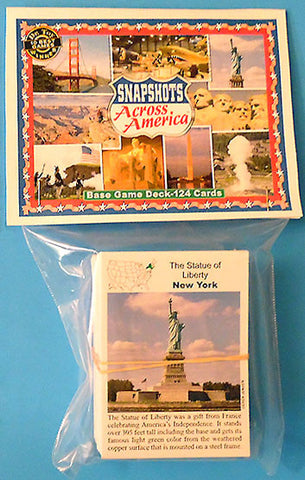 Snapshots Across America
Expanded Edition
Decks of Cards Only
Snapshots Across America base deck of 124 cards, plus the American History Expansion Deck of 32 cards and new updated Rules.
(NOTE: This only include the Cards and does not include game-board, box, nor car tokens.)
For those who have previously purchased an earlier edition of Snapshots Across America and want to just update to the new decks of cards. Includes the base deck of 124 cards plus the 32 card American Historical Sites Expansion Deck (total of 156 cards).
INCLUDES ONLY THE CARDS. THIS FOR THOSE WITH OLDER GAMES THAT HAVE DIFFERENT SIZED CARDS!
New 2015 Edition Features:
Larger base deck of 124 cards with larger pictures.
Color coded Bad Weather, Transportation and Travel Cancel cards.
Updated rules and easier to understand instructions.

Plus Includes 32 card American Historical Sites Expansion Deck.
Add 32 cards to the main game to help children and adults learn more about U.S. History by "visiting" several Historical vacation destinations. This expansion deck features 22 additional U.S. Historical Sites spanning over five centuries ranging from an ancient Native American trail, Colonization, the American Independence and Revolution, War of 1812, Civil War, Westward Expansion, Industrialization, 20th Century Wars, Civil Rights, and even the September 11th Memorial.  A fun way to introduce children and adults to some of the US Historical Sites that has made America the Greatest Nation on Earth.